Jun
29
Sat
Crestview/Wayman Manor Community Team Cleanup Day

@ Crestview/Wayman Manor Area
Jun 29 @ 8:30 am – 12:30 pm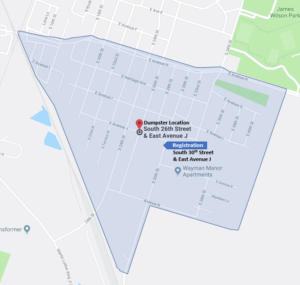 Community Cleanup surrounding the Grounds of the Future Crestview Estates Affordable Homes Development. S 26th Street and East Avenue J.
The City's Transform Temple Department, Stormwater Program, Neighborhood Residents, East Temple Neighborhood Initiative group and The Zoe's Wings Foundation will be hosting a clean-up event on Saturday, June 29, from 9 am – 12 pm. Volunteers are always welcomed and sign up for volunteers will take place from 8:30-9 am.
Everyone will meet at the corner of S 26th Street & E Ave J for registration and signup.
If adverse weather conditions are expected, this event may be rescheduled. For more information, contact Jo-Ell Guzman, Transform Temple office, (254)298-5712 or [email protected].
Cleanup location is South of East Bound E Avenue H and spanning from East of the Railroad tracks to West of S 40th Street. Please signup for this event below and other volunteering opportunities.